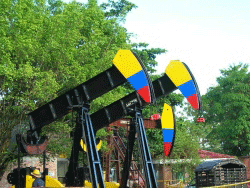 ---
Colombia: Palagua-Caipal
---
The Palagua-Caipal field is located in the middle Magdalena Valley, in the Honsa-La-Dorada sub-basin in the state of Boyaca. Texaco discovered the Palagua field in November 1954 and developed the field for 30 years. In 1986 the concession reverted to Ecopetrol, which operated the field until the consortium of JTI and partners (Two Colombian companies, Ismocol and Parko Services) entered into production contract with Ecopetrol in September, 2000. The estimated Original Oil in Place (OOIP) for the Palagua-Caipal field is about 1.2 Billion barrels of oil. Up until June 2023 approximately 145.9 million barrels of oil have been produced since the beginning of the production from the field.
As of June 2023, the JTI net share of oil production in Colombia is about 1,596 barrels of oil per day and 943 MCFD.
Palagua-Caipal Field:
JTI, along with two Colombian partners, are jointly operating Palagua-Caipal block in Colombia. On 29th September 2000, the joint-venture group was awarded the bid on the Palagua-Caipal block. The joint-venture consortium will operate the Palagua-Caipal field until 2049. In May 2012, the contract was modified dividing the block into two areas, namely, Area A and Area B.
Since 2000 to date, the JTI joint-venture has drilled a total of 323 wells, in both Areas A and B, and plan to drill another 10 wells by the end of this year, The success of the development activities in both Areas qualifies the JTI joint-venture to operate until December 2049.
As of June 2023, the Palagua-Caipal field consists of 341 active and producing wells with an existing gross production of about 8,503 BOPD. Incremental production reached 7,601 barrels per day. JTI's net share is about 1,596 barrels of oil per day and 943 MCFD.
Structure and Stratigraphy:
The structure of the field consists of a large monocline deepening to the southeast, intercepted by the Velazquez-Palagua main strike fault, which is a wrench type fault running NE-SE. Next to this fault are satellite faults running SW-NE that generates eight separated blocks in the eastern part of the field. Exploration in this basin has been directed at prospecting for structural traps, mainly associated with major asymmetric anticlines, closure against faults and folds in over-thrust areas with Tertiary objectives. Occasionally, fractured limestone and stratigraphic traps associated with the wedging of the section on basement have been noted.